Kiap Kiap Tutorial with MS Teams
Finding it hard to share your physical worksheets online? Having difficulty making your virtual lessons more engaging? You're not alone.
This article provides you with 8 simple steps on how to set up the Kiap Kiap on MS Teams (MacBook) to enhance your virtual class experience!
Let's get to it.
1. Open MS Teams
2. Turn Off MS Teams Camera
3. Open Photo Booth
4. Share Screen Of Photo Booth
5. Place And Adjust The Kiap Kiap
6. Conduct Your Lessons With The Kiap Kiap!
7. Take Out Kiap Kiap For Face-To-Face Interaction
8. Share Your Work Freely!
Step 1. Open MS Teams
Open MS Teams to start sharing your work!
Open up MS Teams, your favourite web conference application on your MacBook, and prepare for an exciting remote sharing experience!
#kiapkiaptips #sharescreen #remotelearning
Step 2. Turn Off MS Teams Camera


Turn off MS Teams camera
The method we are going to do today is the share screen method. The gist of it would be to share screen of an in-built camera application in order to use the Kiap Kiap effectively. (which would be further explained in Step 3)
It would be recommended to turn off your MS Teams camera first before moving on to the next step to prevent any unnecessary interference. (Our computers can only handle one video application at a time)
Step 3. Open In-Built Photo Booth Application


Open up Photo Booth
Open up Photo Booth and get ready for sharing. In this scenario, we would be preparing to share screen of our in-built Photo Booth application to make sure our participants see the correct image while using the Kiap Kiap.
Step 4. Share Screen Of In-Built Photo Booth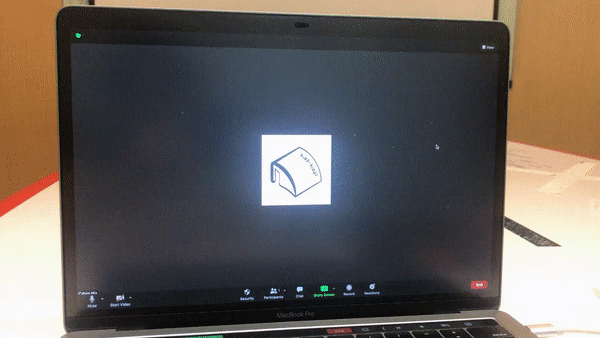 Share screen of Photo Booth
Now you must be thinking, why do we need to do this? Can't we just use our camera in MS Teams?
Well, yes we could!
However, the image would be inverted for our participants. As the Kiap Kiap is a reflector that directs our camera view down to the table, it would produce an inverted image for our participants.
Similarly, the front selfie view produced by our webcam is designed to be mirrored and inverted for our own personal viewing. Therefore, combined together with the Kiap Kiap, we would be able to see the actual orientation of the image.
Inverted Image (Kiap Kiap) x Inverted Image (Selfie View) = Normal Image
While we may be able to see the correct orientation on our computers, we want our participants to be seeing what we are seeing as well. In order to do so, we would have to do a share screen of the Photo Booth.
By sharing screen, the participants will now be able to see from our point of view.
If the above explanation is too much physics for you (I know right!), just remember the following steps below and you will be good to go!
Turn Off MS Teams Camera -> Open Photo Booth -> Share Screen Of Photo Booth
Step 5. Place And Adjust The Kiap Kiap
Don't get too excited yet, one last thing before you start using your Kiap Kiap is to make sure to adjust them according to your device for the best experience. Below are some tips on how you could do it!
Adjustable Kiap Kiap (1.5mm - 7mm)
The Kiap Kiap's clip is designed to be malleable and adjustable to fit different computers and screens. While it may be flexible, make sure to stay within the range of 1.5mm to 7mm to be safe. You may refer to this post on how to adjust the Kiap Kiap to fit your device better!
As our devices are all built-in in different shapes and sizes, besides adjusting the width of the clip, where and how we place the Kiap Kiap over our webcam is also just as important.
Adjusting Vertically
Adjust Kiap Kiap vertically
Different models of the MacBook may have the webcam placed at different heights. Make sure to adjust the height of the Kiap Kiap and centralise it towards the mirror to reflect the image down onto the table.
Adjusting Horizontally
Adjust Kiap Kiap horizontally
Besides the height, make sure to adjust the Kiap Kiap placement horizontally as well to match the camera's view with the mirror.
If you are having trouble, please feel free to contact us at hello@modelupkids.com
Step 6. Conduct your lesson!
Share your work online with the Kiap Kiap!
Congratulations! You are now ready to conduct your live lessons with the Kiap Kiap!
Pro tip: use a whiteboard to conduct your presentation to replicate a real-life whiteboard presentation! We made a simple DIY guide here.
Step 7. Take Out Kiap Kiap For Face-To-Face Interactions
Take out Kiap Kiap for F2F interactions
Remember to take out the Kiap Kiap throughout the lesson to connect with your participants through face-to-face interactions!
Step 8. Share Your Work Freely With The Kiap Kiap


Share your work freely
Here is just one of the many ways you can use the Kiap Kiap to enhance your virtual classes and share your work freely.
For more creative ideas, check out our other tutorials on using the Kiap Kiap on other platforms such as Google Meets here!
We hope this enhances the learning experience for you and your students during this pandemic. Stay safe and take care, everyone!
We want to hear from you. How has the Kiap Kiap improved your virtual lessons/presentation experience? What other features would you hope to see? Feel free to tag us on our social media to let us know! 😊